LONG-LASTING BATTERIES: SILENCE BATTERIES
[vc_row][vc_column width=»2/3″][vc_column_text]
AFTER 40,000 km,
SILENCE BATTERIES AS NEW!
At SILENCE we have carried out an exhaustive study with batteries with more than 400 charge and discharge cycles, which we manufacture and develop in our Molins de Rei production plant where we check the maintenance status of our products. With the participation of different clients who work in delivery and have their S02 and S03 e-scooters operating all day, the case studies are completely real. Thanks to all these reviews and studies, we have been able to see how there is NO deterioration after a long use of the batteries. A full guarantee of quality!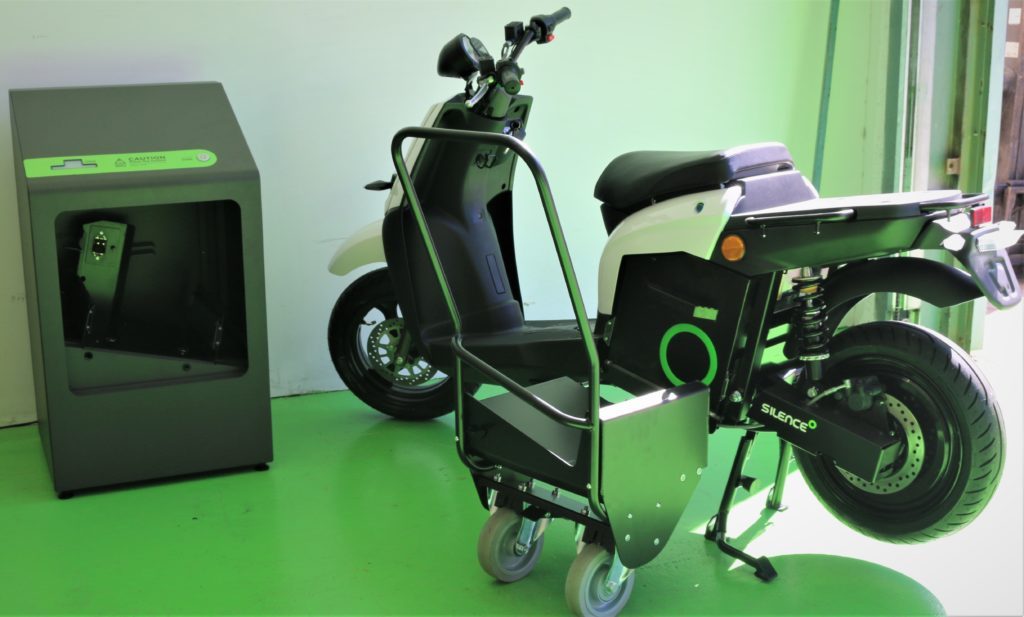 Long life for Silence Battery Packs
At the beginning of 2015, Silence launched the S02 electric scooter, designed for the delivery of small goods, as well as transportation for companies and their workers around the city. After three years, the first e-scooters for delivery and take-away companies have begun to cross the 40,000-km barrier. A considerable figure and perfect for studying, and evaluating all the kilometres travelled day by day, and the state of the batteries.
The R&D department at Silence has carried out laboratory cycle tests of both the charge and discharge cycles of several batteries. The results show that the average energy capacity of Silence batteries after 40,000 km is estimated to be 97 %, with a minimum variation that does not affect batteries performance. This average data shows that the management of the BMS (Battery Management System) developed by Silence is of maximum efficiency.
SUCCESS STORIES
ARA VINC, Barcelona
Ara Vinc is a last-mile delivery company based in Barcelona that carries out deliveries of small and large goods every day. With a 100 % environment-friendly philosophy, its means of transport is always the most sustainable. That is why they chose Silence, placing their trust in our scooters and batteries from the beginning. It currently has a fleet of 39 Silence S02 scooters, four of them have between 31,000 km and 39,300 km (frames 178 to 181) but they still show the same performance as they did at the beginning. Workers at Ara Vinc are 100 % satisfied with the performance and features of Silence electric scooters, as shown in this video.
TRANSALI for JUST EAT, Santiago de Compostela
Transali is in charge of the takeaway service for Just Eat in Santiago de Compostela. It has a total fleet of 15 Silence S02 scooters. Five of them were acquired two years ago and have travelled between 35,000 km and 47,000 km. Two S02 were acquired 14 months ago and have travelled between 22,000 km and 24,000 km. Another six scooters were bought 3 months ago and have between 6,000 km and 10,000 km. And, two more Silence scooters have just been acquired due to their good performance. According to Juan Andrés, owner of Transali Compostela, "We are pleasantly surprised by our Silence S02 scooters. With more than 40,000 km, they keep their autonomy at a similar level to the initial one. We recommend Silence for autonomy, performance and savings".
Transali is another clear example of the non-stop daily use of the scooters for delivery in the city of Santiago de Compostela, whose terrain is uneven and with lots of paving stones. This also really surprised the workers, as even on streets like these, the scooters and their batteries have always responded perfectly, without damage or problems.
Use type: Food delivery                Daily Km: 80 km average                                      Climate: Cold and rainy most of the year
Driver: Several                             Load capacity: 173 kg

[/vc_column_text][/vc_column][vc_column width=»1/3″][vc_widget_sidebar sidebar_id=»sidebar_1″][/vc_column][/vc_row]

<