Range
137 Km*
THE CITY OF TODAY
No limits.
Get around the city with no limits.
Day and night.
Range: revised WMTC L3e.
127 Km
Range
revised WMTC L3e
1 year
free insurance*
* For Spain only.
Battery
Pack

Removable system
Safe, easy and fast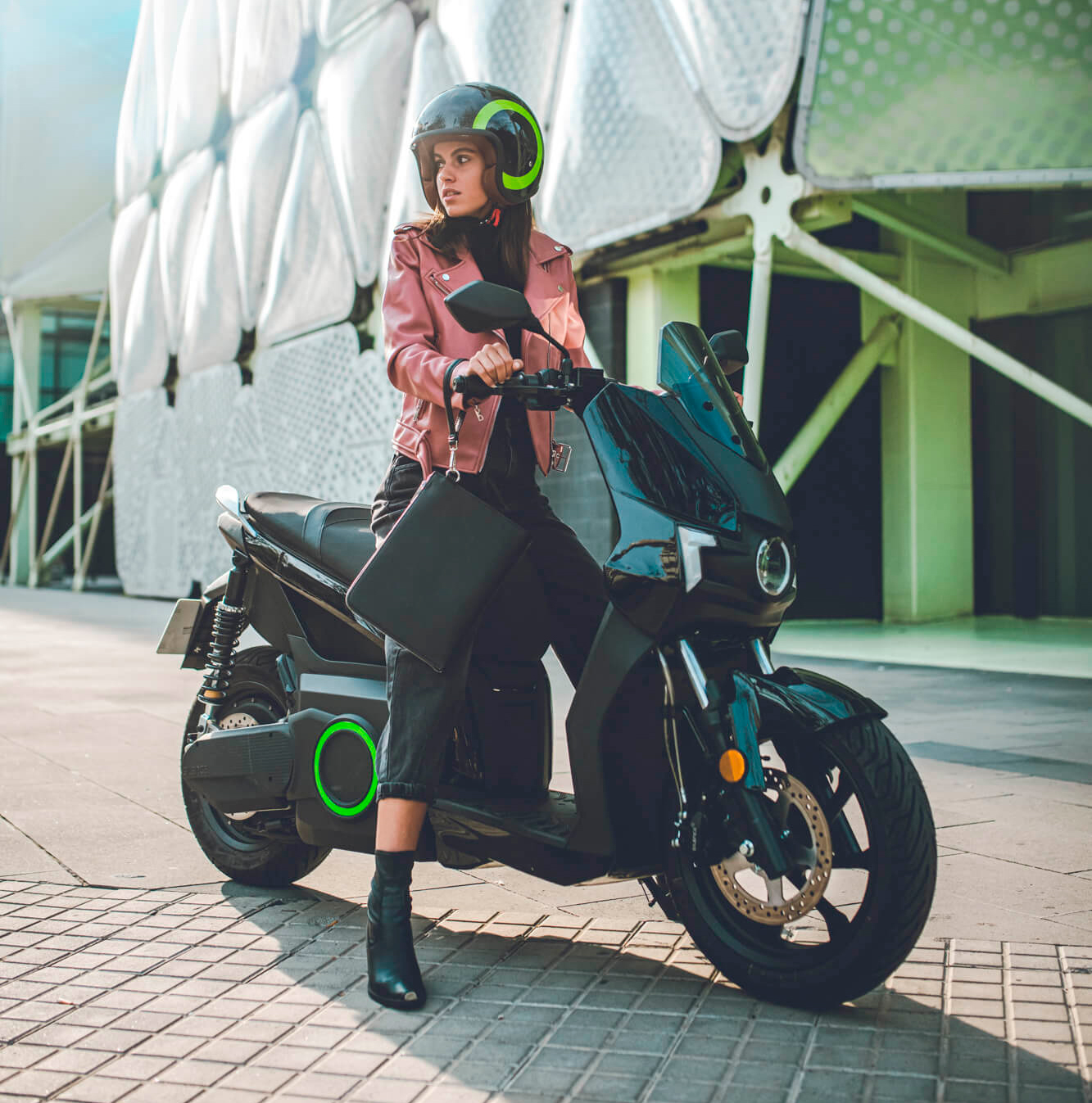 Gran capacidad bajo el asiento
Don't worry about the luggage
Regenerative
CBS Brakes
The S01 comes standard with a combined braking system (CBS): the left lever brakes both wheels and the right lever brakes the front wheel and activates the regenerative brake system to help brake and recharge the battery.
Savings
Fill the tank for 80% less: €100 of petrol is equivalent to €20 of electricity. Plus, save 30% on maintenance in tyres and brakes alone.
Driving modes
ECO: In Eco mode the scooter has
limited speed of 70km/h. It allows you to economize and get about in a more relaxed way.
CITY: The S01 is designed for getting around the City. It has limited speed of 85km/h, giving the vehicle a good level of performance and consumption.
SPORT: In Sport mode the driving reaches 100Km/h, offering greater strength and speed in specific cases and a more regenerative braking.
0 – 50 km/h in 3.8 seconds
Speed limited at 100 km/h
Motor 7.000W (9kW Peak Power)
SCHUKO connection: Charger integrated in the Battery Pack – 600W
Battery pack with 55W heater (works with charger and depends on the version)
3 driving modes and reverse gear
Weight without battery: 111 kg
Dimensions: 2000x705x1313 mm
Proprietary electronics and BMS (Battery management system): Control the cell voltage, number of charges and temperature
Height off the ground: 177 mm
Wheels (front and rear): 120 / 70-15 // 140 / 70-14
Brakes (front and rear): Disc
LED lights/ daytime running lamps / built-in indicators
Digital speedometer: Speed, SOC (state of charge), remaining km and temperatures