Silence opens its first electric vehicle dealership in Malaga
---
Today, Silence – ACCIONA's electric vehicle subsidiary – opened its first dealership in Malaga, in partnership with the MEI Group. In addition, this Malaga-based company will launch a local ride-sharing service using Silence scooters, which will start operating on Monday, 27 February.
The dealership, at C/ La Orotava 2, was inaugurated by Francisco de la Torre, Mayor of Malaga; accompanied by José del Río Escobar, Mobility Councillor; Francisco Guillén, CEO of the MEI Group, and Iván Maura, Business Development Director of ACCIONA's Urban Mobility Division.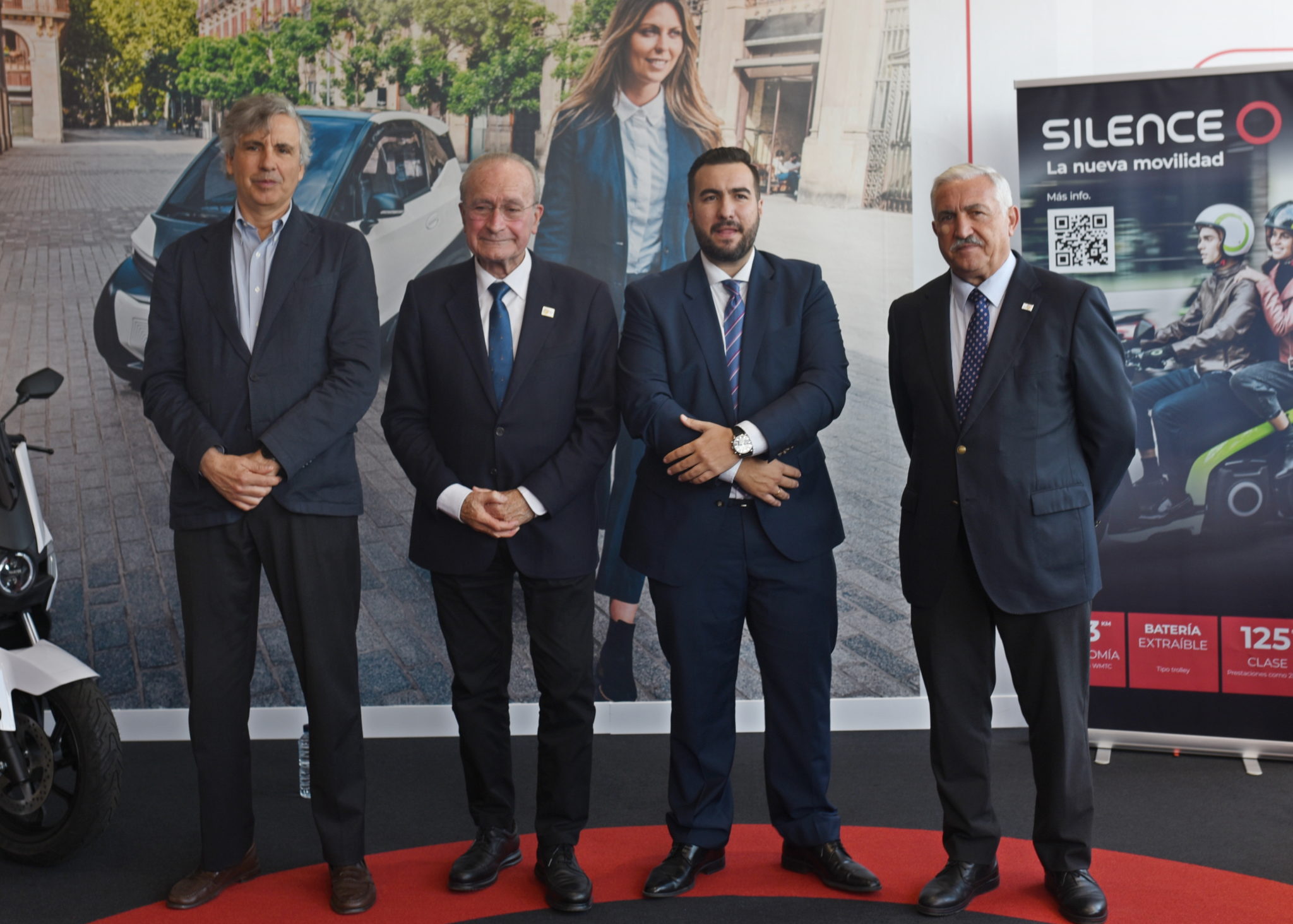 Customers can find the entire range of Silence electric vehicles and receive advice from the team of professionals at its dealership in Malaga. Silence has two scooter models in its catalogue. The S01 model, with three versions (Basic, Standard and Plus). The latter is the premium version with best-in-class features and equipment. In addition, Silence offers the S02, a budget scooter with a more basic design. Silence scooters can be driven with a Category B driver's licence, without the need for a motorcycle licence. There is also a moped version of the S02 which does not require a licence.
Additionally, the S04, Silence's four-wheeled electric vehicle, will be available this year. This two-seater vehicle opens the door to the urban mobility of the future, as it is comfortable, safe, sustainable and, additionally, easy to park thanks to its compact dimensions.
REMOVABLE BATTERIES
All Silence vehicles are powered by the same removable battery system – scooters feature a single battery and the S04 nano-car features two – which can be charged from any conventional power point. In addition, customers can purchase a scooter without a battery and rent one through a monthly subscription service, saving up to 40% on the price of purchasing the vehicle.
With this system, when the driver detects a low charge level, they can go to the nearest Silence Battery Station and swap the discharged battery for a fully charged battery. Swapping the battery only takes a minute, saving on the time needed to charge it.
RIDE-SHARING
On the other hand, the MEI Group's local motosharing service will use around 30 Silence electric scooters, which can be accessed by downloading the Silence Connected smartphone app. Other local companies in Girona and Jaén are already offering similar services using Silence vehicles.
"It is a pleasure to be here today watching the MEI Group, a local company from Malaga, partner with Silence to tackle our current mobility challenges", said Francisco de la Torre. He also stressed "the sensitivity of a Spanish company like Acciona, with a global commitment to address all matters related to sustainability".
"We are a Malaga-based company, so we know the city very well, and this will allow us to tailor our ride-sharing services in the most effective way", mentioned Francisco Guillén of the MEI Group. "Silence vehicles will allow us to improve the air quality of our city, boost sustainable mobility and reduce noise in congested areas, while also reducing the traffic levels in the city centre".
"Silence is here to make life more comfortable for the people of Malaga, with 100% electric, Spanish-made vehicles", said ACCIONA's Iván Maura. "We were really looking forward to being here, in the provincial capital with the highest number of motorcycles per inhabitant".